Welcome to the Dies Irae wiki
Welcome visitors, this wiki is dedicated to Dies Irae which originated from visual novels-video games released almost a few years ago (starting with Also sprach Zarathustra since 2007) before the TV anime adaptation of the same name, which was launched on October 7 2017. The additional ONA will be released somewhere mid-2018. It was announced that the ONA will be released on July 13 2018, the anime will contain 6 more episodes, it will serve as Season 2 for the series.
Dies Irae Wiki
Welcome to the wiki. We're a collaborative community website about the Dies Irae series !.
Dies Irae Visual Novels
Dies Irae is collection of science-fiction short stories. Dies Irae consists of visual novels:
Also sprach Zarathustra (2007)
Acta est Fabula (2009)
Amantes amentes (2012)
Also sprach Zarathustra was released on 21 December 2007 in Japan
Acta est Fabula was released on 25 December 2009 also in Japan
Amantes amentes was released on 28 June 2012 for PSP, 31 August 2012 for Windows, 19 August 2015 for Android and 2 December 2016 for iOS all of which was released in Japan only. It was not until June 2 2017 when it was finally released worldwide for Windows and PSV.
Plot:
The story follows one of the closing battles in World War II, the Battle of Berlin, in which a group of sorcerers or powerful individuals known as the infamous Longinus Dreizehn Orden performs a ritual using the lives lost in the battle as a sacrifice for their spell.
As the war ended, they disappeared without a trace and was 'rumored to return any day now'. In the present-day Japan, Ren Fujii was released from the hospital after recovering from a brawl with his friend Shirou, when the LDO returns.
Latest activity
Photos and videos are a great way to add visuals to your wiki. Find videos about your topic by exploring Wikia's Video Library.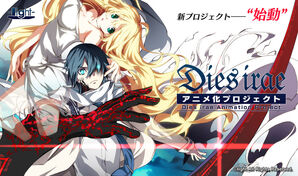 Community content is available under
CC-BY-SA
unless otherwise noted.